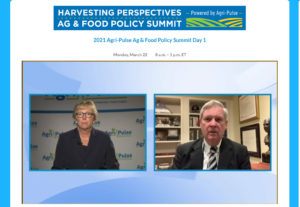 The virtual 2021 Agri-Pulse Ag & Food Policy Summit kicked off the first of three half-day sessions Monday morning with U.S. Secretary of Agriculture Tom Vilsack. The topic this year is "Climate Risks, Rewards and Uncertainties."
Vilsack stressed the importance of markets for agriculture. "At the end of the day, that is really the job of USDA, creating opportunities for markets," he said.
The secretary touched on a number of topics, including trade, carbon markets, biofuels, climate smart agricultural practices, conservation programs, and more. Listen to his comments and questions from Agri-Pulse Founder and Editor Sara Wyant.
Agri-Pulse Summit - Secretary Vilsack
(24:58)
Registration for the 5th annual Agri-Pulse Ag and Food Policy Summit is still open as the event continues through Wednesday.