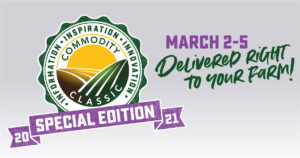 The 2021 Special Edition of Commodity Classic last week appears to have been a virtual success.
According to the organizers, by Thursday, the total number of attendees was nearly 6,000, with more than 4,000 farms represented from 49 states and 24 countries. The online event concluded Friday with a live keynote address from USDA Secretary Tom Vilsack.
If you missed it last week, you can still register by March 12 and watch more than 50 archived sessions on-demand until April 30, 2021.