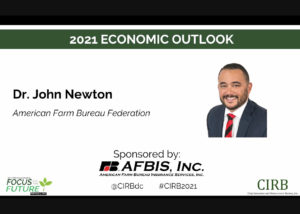 The food and agriculture economies are continuing to feel the impact of COVID-19 as the pandemic enters a second year of global disruption.
"Beginning in mid-March, when it was declared a pandemic in the United States…the impact on agriculture was immediate," said American Farm Bureau Federation chief economist John Newton, speaking today at the virtual 57th annual Crop Insurance and Reinsurance Bureau Annual meeting.
That impact hit nearly every sector of food and agriculture, with ethanol and meat production hit particularly hard, and recovery continues to be slow.
Listen to Newton's presentation here:
2021 CIRB presentation - John Newton, AFBF 55:30