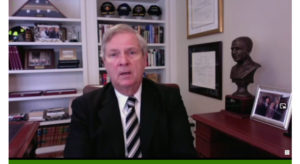 Former Agriculture Secretary Tom Vilsack appeared before the Senate Agriculture Committee Tuesday to be questioned about his goals if confirmed to return to his old job as the new Secretary of Agriculture.
Joking that he realized it was Groundhog Day and he was "back again," Vilsack noted that "this is a fundamentally different time."
In his opening statement, Vilsack outlined four "why not? moments" or areas where agriculture can make a difference for the future – climate change, food security and nutrition insecurity, market openness and competitiveness, and inequities in USDA programs.
Vilsack hearing - opening statement
(4:36)
Vilsack discussed his plans for the biofuels industry in response to a question from Sen. Amy Klobuchar (D-MN).
Vilsack hearing - biofuels
(1:37)
Sen. Joni Ernst (R-IA) asked Vilsack how he will support biofuels in the White House when the Renewable Fuel Standard (RFS) is up for re-authorization in 2022 amidst a strong push for electric vehicles.
Vilsack hearing - EVs
(3:05)