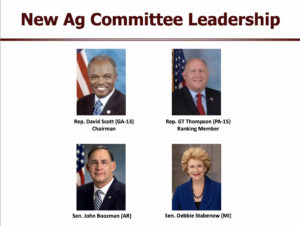 Presumptive new leadership in both the House and Senate Agriculture Committees for this coming Congress includes two lawmakers with cotton roots.
Agricultural economist Bart Fischer, Co-Director of the Agricultural & Food Policy Center at Texas A&M University, gave a policy update Tuesday during the virtual Beltwide Cotton Economic Outlook conference. He says while the political landscape is still somewhat uncertain on the Senate side, Rep. David Scott of Georgia has been elected serve as Chairman on the House committee with Rep. Glenn 'GT' Thompson (R-PA) to serve as the Ranking Member.
Sen. John Boozman of Arkansas will be replacing retiring Senate Agriculture Committee Chairman Pat Roberts (R-KS) and is in line to become either the chairman or ranking member, depending on the outcome of the Georgia Senate runoff elections. Sen. Debbie Stabenow (D-MI) is expected to retain her position of leadership on the committee.
Fischer discussed a number of policy issues during his presentation, such as COVID relief legislation and looking ahead to the next farm bill. His presentation is available on demand for Beltwide cotton registrants.
Here is an excerpt from Fischer's presentation.
2021 Beltwide - Bart Fischer, Texas A&M 1:40