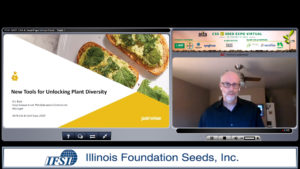 Gene editing is still a relatively new technology but the promise that it holds for future food production continues to grow.
It was only four years ago that the American Seed Trade Association (ASTA) featured gene editing at the annual CSS and Seed Expo and held a press conference to introduce the technology to media. This year, ASTA CSS offered a session with today's leading edge companies to talk about current and future directions of genome editing.
The panel, moderated by David Bubeck with Corteva Agriscience, featured Mark Cigan, GENUS; James Radtke, Cibus US; and Nicholas Bate, Pairwise Plants. In this interview, Bate discusses consumer acceptance of gene editing and how Pairwise has been working with Bayer on new traits for corn, soybeans, wheat, canola and cotton.
ASTA Interview with Nicholas Bate, Pairwise
(5:16)
Find more content from ASTA CSS here:
2020 ASTA CSS & Seed Expo Virtual Newsroom