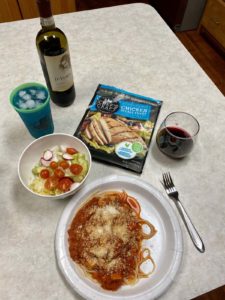 When I got a news release from Wayne Farms that included a product sample if I would like to do a taste test, I said, Yes, please. So I received the grilled chicken breast fillets and grilled chicken breast chunks. I sliced the breast fillets into a spaghetti sauce, paired with a small side salad and glass of chianti. It was a fast and easy recipe for a good meal for Cindy and me. The fillets are individually packaged and all you have to do is place them in a pan of hot water to thaw them. They were tender and tasty so I can definitely recommend these if you want a meal that's already mostly prepared.
So, the release is all about the fact that you can now find these products in grocery stores.
Wayne Farms LLC (Wayne Farms) is continuing its expansion into the retail space with the launch of CHEF'S CRAFT® Gourmet Chicken into grocery stores. The chef-inspired brand of products is now available for purchase at Walmart and Food Lion stores.
The Flame Grilled Chicken Breast Fillet and Grilled Chicken Breast Chunks are being sold at about 2,400 Walmart stores and more than 1,000 Food Lions. The Breaded Chicken Breast Chunks will be available later this fall in stores. Each of these products are made from no-antibiotics, vegetarian-fed chickens.
CHEF'S CRAFT® chicken is a line of gourmet products thoughtfully inspired by chefs. They are fully cooked and frozen, providing consumers with an easy-to-prepare, nutritious meal within minutes. The minimally processed products also are gluten-free and preservative-free. The chicken is 100 percent-farm raised and contains no nitrates, MSG or artificial ingredients. They pair perfectly with your favorite rice, pasta and vegetable dishes.
"We are thrilled to be offering CHEF'S CRAFT® chicken in retail locations for the first time. Previously, the brand was only directly sold to the foodservice industry," said Megan Ernst, senior marketing manager of Wayne Farms LLC. "Walmart and Food Lion are perfect partners to introduce CHEF'S CRAFT® chicken to retail consumers. Shoppers will love the chef-inspired products that are ideal for busy families on the go."