It is starting to look like most conventions kicking off 2021 will be going virtual.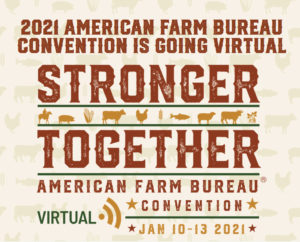 The American Farm Bureau Federation announced today that its 102nd Annual Convention will be held virtually following the cancellation of all events through Jan. 31, 2021, at the San Diego Convention Center where the convention was scheduled to take place. The AFBF virtual convention will be held Jan. 10-13, 2021.
AFBF joins a growing list of January events that will be virtual in 2021.
The National Biodiesel Board announced earlier this week that the annual Biodiesel Conference & Expo will be virtual for the 2021 event January 18-21. The National Cotton Council has replaced the in-person 2021 Beltwide Cotton Conference in New Orleans, LA with a fully virtual meeting January 5 through 7. The International Production & Processing Expo (IPPE), which was scheduled for Jan. 26-28 in Atlanta, will now instead offer digital exhibitor engagement and virtual educational opportunities during the week of Jan. 25.
We will be working with both the National Biodiesel Board and the National Cotton Council to help get content to media from their events on AgNewsWire.