Ag data company Farmobile has been named 'Blockchain-based AgTech Solution of the Year' and 'Yield Forecasting Solution of the Year' in the inaugural AgTech Breakthrough Awards program.
The mission of the AgTech Breakthrough Awards is to honor excellence and recognize innovation in a range of agricultural and food technology categories, including Internet-of-Things (IoT) and Artificial Intelligence (AI) based agricultural technologies, farm management, indoor farming, food quality, data analytics and many more. This year's program attracted more than 1,750 nominations from over 15 different countries throughout the world.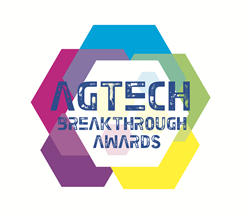 "Farmobile's innovative use of blockchain technology is redefining how the agriculture industry collects, stores, protects, and shares important data," said Bryan Vaughn, Managing Director of AgTech Breakthrough Awards. "By both creating new revenue streams for farmers and helping industry partners use ag data to solve the industry's biggest challenges, Farmobile is making the industry smarter and more sustainable."
The Farmobile DataStore exchange leverages blockchain technology to protect privacy, and preserve the anonymity of the farmer-subscribers, who choose to use the world's first online marketplace that digitally connects them with potential data buyers. Farmobile DataStore participants are able to license single-use copies of their data to approved third-party buyers for a recurring revenue source.
Farmobile's Farmobile Index (for both Planting and Harvest) provides daily updates on crop progress as it happens during farming's most crucial times of the year.
Farmobile CEO Jason Tatge said, "We created the Farmobile Index so farmers could get more timely updates — especially during planting and harvest — that can help them more effectively market their commodities. We're thrilled that the AgTech Breakthrough Awards realize the tremendous value this is going to have in agriculture."