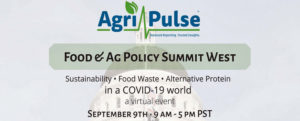 Responding to changing consumer tastes is one of the greatest challenges facing farmers and food producers going forward. The upcoming Agri-Pulse Food & Ag Policy Summit West on September 9 will feature new insights into the next generation of consumers, as well as the latest ideas for dealing with food waste, implementing sustainability programs and producing alternative forms of plant-based and cell-based proteins.
The event is similar in nature to the Washington DC policy summit Agri-Pulse normally hosts in March, but this is the first time Agri-Pulse has done it in California since starting dedicated coverage there last year. "As we've covered California food and ag issues this past year, we've seen tremendous innovation in methods and technology that can help revolutionize food production and reduce agriculture's environmental footprint," says Agri-Pulse Editor Sara Wyant. "We plan to showcase some of these success stories and also discuss the unique challenges ahead."
The event will be hosted virtually from the California Farm Bureau Federation offices in Sacramento on September 9 from 9 am to 5 pm Pacific Time and broadcast live for all participants with a 30-minute lunch break from 12-12:30 pm. The event is free to current Agri-Pulse subscribers, state and federal legislative staff. The fee for non-subscribers is $149, which includes a free six-month subscription to Agri-Pulse, currently valued at $727 for a full year.
Wyant says agriculture and food stakeholders all over the country can benefit from the program. "Because some of these things that start in California tend to move all the way over to the East Coast and also to folks in the middle," she said.
Learn more about the event in this interview.
Interview with Sara Wyant, AgriPulse
Find Summit West information and registration here at Agri-Pulse.com.
Also, the 2020 Ag & Food Policy Summit, which was delayed from its original date in March, will now be held virtually on September 21 with another great speaker line up. Find out more.