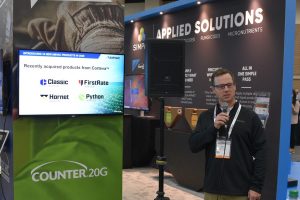 AMVAC was pleased to announce 10 new products at the 2020 Commodity Classic, including the recent acquisition of four herbicide brands from Corteva Agriscience™.
These products are complementary tank-mix partners for a variety of primary herbicides used in the U.S agricultural market. They are particularly valuable for enhancing weed control performance against increasing numbers of troublesome weed species. The products include:
• Classic® Herbicide: Expands the postemergence weed control spectrum in soybeans.
• FirstRate® Herbicide: Provides preemergence and postemergence control of key broadleaf weeds in soybeans.
• Hornet® Herbicide: Delivers postemergence broadleaf weed control of glyphosate resistant weeds in field corn.
• Python® Herbicide: Allows flexible broadleaf weed control in soybeans and field corn.
AMVAC Marketing Manager Nathaniel Quinn explains more in this interview.
Interview with Nathaniel Quinn, AMVAC Marketing Mgr.
2:28