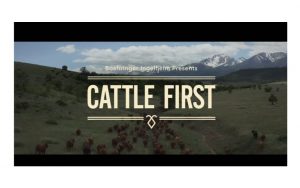 A new documentary shares the commitment of a Colorado ranch family to animal health and the environment.
"They're raising their sixth generation on the ranch right now, so it's a big legacy," said Scott King, cattle marketing team lead for Boehringer Ingelheim. "They're totally committed to caring for the land and the sustainability of it, and they're very passionate about animal health and well being."
King was speaking of the Johnson family, owners of Flying Diamond Cattle Ranch, who are featured in the film. He said the family embodies the concept of "Cattle First" with the passion they have for animal care.
"We really wanted to get that message out there about how our producers are so passionate about their animal and the care for their animals, and we really think that will help ensure a great future for all of us," said King.
View the documentary at CattleFirstMovie.com. King was at the 2020 Cattle Industry Convention and NCBA Trade Show in San Antonio.

CIC2020 Interview with Scott King, Boehringer Ingelheim 3:56

2020 Cattle Industry Convention and NBCA Trade Show Photo Album