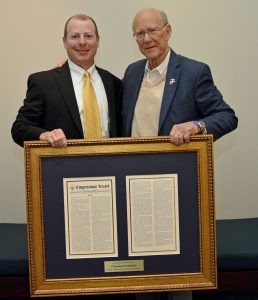 The "Father of the Modern Crop Insurance Program" was honored today for his lifetime of service to farmers and the industry by the Crop Insurance and Reinsurance Bureau (CIRB).
CIRB Chairman, Zane Vaughn of ARMtech, presented Senate Agriculture Committee Chairman Pat Roberts (R-KS) with the crop insurance industry's Lifetime Achievement Award. Chairman Roberts is the only Member of Congress to serve as Chairman of both House and Senate Agriculture Committees and most recently worked to pass the 2018 Farm Bill with the largest vote count in history.
"I'm honored to receive the crop insurance industry's Lifetime Achievement Award, and I would be remiss if I did not dedicate it to the hard-working men and women who have always been there to remind me of the importance of the farmer's risk management toolkit. Thank you for all you do—and will continue to do—for farmers, ranchers, growers, and rural communities," said Roberts. "No matter where I travel across the country, the number one refrain I hear is, 'protect crop insurance.' That's why I have made it a priority during my time in Congress, and I'm pleased that together we have fended off multiple attempts to cut and harm the program."
Sen. Roberts says he has more than 50 such awards, but this is one of the most meaningful for him.
Listen to his remarks and an interview with Sen. Roberts here:
Sen. Pat Roberts remarks at CIRB Annual Meeting (27:00)

Interview with Sen. Pat Roberts at CIRB Annual Meeting
(8:32)