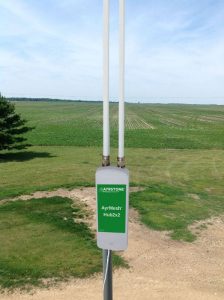 While USDA is handing out grants and loans all over the country to help with rural broadband infrastructure you've got to work with what you have. If you're on a farm or other type of rural property then I can personally recommend Ayrstone products. Ayrstone Productivity, headquartered in North Oaks, MN., just announced the availability of their AyrMesh Hub2X2. The bottom line is to use the service you have and be able to cover significantly more range than with any other product out there. Here's more information.

If this seems a little "back to the future" – it is! After almost a year waiting, we are finally introducing the new, improved model of the AyrMesh Hub2x2!
This new model of the favorite AyrMesh Hub is more powerful, tougher, and has longer range than the old Hub2x2 – it has the same range as the Hub2T with twice the bandwidth. And the new case is simpler and more resistant to heavy weather.
Want to learn more? See the blog post on Efficiency and Productivity Through Wireless Farm Technology.
Novel concept, eh? Using your blog to write about your products!
But if you need to cover lots of area check this product out. I've been using Ayrstone products for many years and have never had any problem with them. I don't know any other tech product I can say that about.