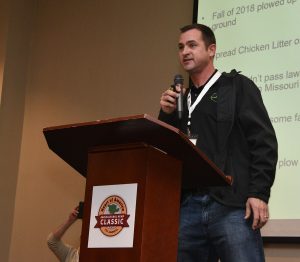 What began as an opportunity to diversify a traditional row crop operation by growing hemp has been a learning experience and much more for Luke Poindexter and Poindexter Family Farms.
"We are traditional row croppers. We have lots of machines that do most of the work. This was quite different. A lot more manual labor. A lot more walking your fields," said Poindexter.
Poindexter not only learned how to grow the hemp plants, but also about processing and extracting. A demand for local oil now has the Poindexter family bottling under their own brand, Rural Route Hemp Co., as a part of an additional business venture called MoCann Extracts. Poindexter encouraged farmers who are thinking about growing hemp to do extensive research when it comes to buying seed, and to develop a relationship with a processor early. The Missouri farmer spoke at the 2020 Heart of American Agricultural Hemp Classic in Independence, Mo.
Listen to Chuck's interview with Luke here: Interview with Luke Poindexter, MoCann Extracts