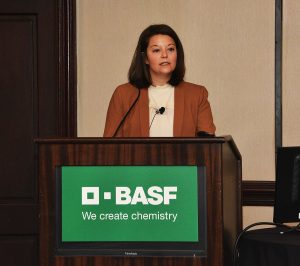 BASF is working with cotton growers to ensure they have appropriate choices, while maintaining a high level of seed quality.
"From a cotton strategy perspective, BASF is really about sharing our story, and making sure growers know that we understand where we've been, where we are now, and where we want to go," said BASF's Hadley Howard at the 2020 BASF Agronomic Performance Trials (APT) Summit in Austin, Tex.
Howard said the company plans to bring a new trait to market in 2023 that will be stacked with four herbicide-tolerant traits and three insect traits. She said BASF will continue to make seed quality a priority, and shared that sustainability continues to be a focus with the e3 Sustainable Cotton Initiative. Growers can contact local seed advisors to learn more about enrolling in that program, as many are already using required sustainability practices on their farms.
Listen to Chuck's interview with Hadley here: Interview with Hadley Howard, BASF