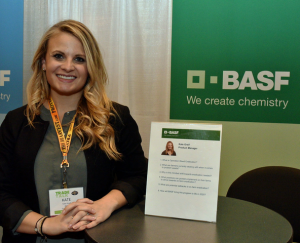 BASF is launching a new inititative called "Operation Weed Eradication" to help farmers learn to control weeds rather than just manage them.
"I'd say it's a mindset shift because today we think about weed control in terms of maximizing the yield potential on farm, and that's very key," said Kate Greif, Product Manager. "So when we're applying weed control, we're thinking about are we controlling the weeds enough nutrients from our crop that we can maximize our yields. What the shift is to is controlling even those last weeds standing. The last weed on the farm is arguably probably the most adaptable weed and it's likely the most herbicide resistant to the herbicide programs we're using today."
Greif said growers have historically relied heavily on chemistry for weed control, but this approach is far more holistic. Eradication diligence means taking time to hand row those last weeds standing. It includes controlling weeds not only on farmable acres, but also waterways and areas next to the field where there may be weed pressure as well.
Greif said the biggest setback the industry has had is the over reliance on a single mode of action chemistry, and "Operation Weed Eradication" aims to change that. Any farmers and industry partners interested in joining the effort can visit operationweederadication.com or reach out to a local BASF representative.
Listen to Chuck's interview with Kate here: NAFB19 Kate Greif, BASF (4:15)