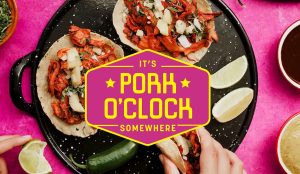 What would Jimmy Buffett do for a pulled pork sandwich in paradise?
The National Pork Producers Council (NPPC) has launched a new campaign, "It's Pork O' Clock Somewhere," to highlight the importance and benefits of the U.S.-Mexico-Canada (USMCA) trade agreement. The campaign focuses on pork and the many ways it's enjoyed across North America.
"Ratification of USMCA is the top priority for U.S. pork producers and there is no better way to highlight its importance than a campaign that illustrates how pork is enjoyed across United States, Canada and Mexico," said David Herring, NPPC president and a pork producer in Lillington, N.C. "A USMCA agreement provides much-needed market certainty for U.S. pork producers, ensuring zero-duty market access to two of our largest export markets."
Last year, more than 40 percent of U.S. pork exported went to Canada and Mexico. The campaign thanks lawmakers for making USMCA ratification this year a priority and highlights the history behind pork-related dishes in the United States, Mexico and Canada.
To learn more about NPPC's campaign, visit www.porkoclock.org.