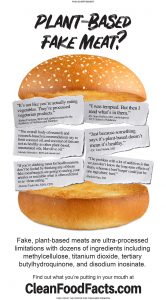 I don't know about you but I like to know what's in my food. When it comes to meat I prefer it to be made out of meat and not a bunch of processed ingredients. I also think it's important for consumers to be given good information that they can make intelligent decisions with. That's why I like this new ad from the Center for Consumer Freedom. The organization placed a full-page ad in The New York Times showcasing quotes from nutrition and medical professionals on plant-based meat's healthiness—or lack thereof. Apparently 76% of Americans think "plant-based" foods are healthy but CCF is pointing to experts who urge caution about fake meat.

Companies that manufacture meat analogues are trying to latch on to clean eating trends by calling their products "plant-based." In reality, these ultra-processed products, which can have dozens of ingredients, don't grown on vines—they're made in factories. As one dietitian puts it, "It's not like you're eating vegetables." The National Institutes of Health recently found ultra-processed foods cause weight gain.
The ad, which can be found here, is the latest addition in CCF's campaign to raise awareness of what's in "plant-based meat." Additional information, such as blogs and an ingredient comparison tool, can be found at CleanFoodFacts.com. Additional ads have run in The New York Times, USA Today, The Wall Street Journal, and the New York Post.
CCF managing director Will Coggin commented: "The fake meat industry has tried to play down the ultra-processing of these products by comparing them to yogurt or apple pie. But there's a big difference between homemade baked goods and Frankenfoods created in labs."