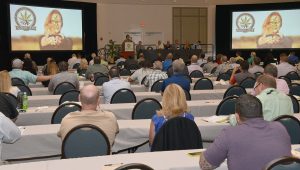 I'm starting out this week on the agriblogging highway attending the first Florida Industrial Hemp Conference & Exposition in Orlando. With an expectation of 200 attendees the actual number is about 450 according to conference coordinator, Gene Jones.
In the photo our keynote speaker is leading the program off today. She is Holly Bell, Director of Cannabis, Florida Department of Agricultural & Consumer Services. She gave us an overview of her department and said that there will be a "Fresh from Florida" program for hemp.
You can listen to my interview with Holly after her presentation here: Interview with Holly Bell, FDACS
In the meantime, please enjoy, use and share photos from my Florida Industrial Hemp Conference photo album.
AgWired is a conference supporter.