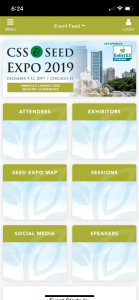 The all-new, year-round mobile app for ASTA event information is now live and available.
Replacing our former app, this new mobile experience includes a new, often-requested feature: one-to-one messaging and appointment setting with other attendees!
To download the new app, search ASTA Events in your app store. Special thanks to our app sponsor, Corteva Agriscience! Like this sponsorship? Hurry to secure your company's own promotion – ASTA sponsorship opportunities for the CSS & Seed Expo 2019 close November 15!
NOTE: The app requires registrant login to access certain areas, including attendee list areas. When logging in, use the login you created when registering for ASTA's CSS & Seed Expo 2019. If necessary, a "forgot password" will offer login assistance for any conference registrant. You must be a conference registrant in order to access these special features.