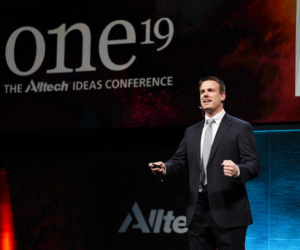 An Iowa-based company participating in the Alltech Pearse Lyons Accelerator is working to improve the swine industry, beginning with the farrowing process.
"SwineTech is trying to transform the way we look at farrowing management and how we assist sows in the farrowing house, giving the information that's needed to provide the very best welfare and support and then the technology and autonomy for us to prevent deaths in real time and not having to rely on a person being there every second of every day," said Matthew Rooda, CEO of SwineTech.
Rooda explained the company's ability to monitor wavelengths and frequencies of the sounds made in the farrowing house, mapping those and identifying whether or not a sow might be laying on a piglet. When that happens, a wearable attached to the mother pig can alert her to stand up using a vibration and a safe chiropractic impulse. Rooda said SwineTech products are already protecting more than a million piglets in the industry.
Listen to Chuck's interview with Matthew here: Interview with Matthew Rooda, SwineTech