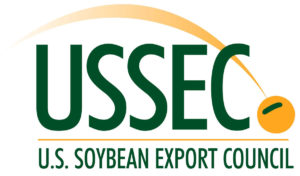 While trade tensions between the U.S. and China continue, the U.S. Soybean Export Council (USSEC) is working to build global demand and expand market access for U.S. soy products and support the American farmer.
Since last year, USSEC hosted events around the globe with new and existing customers to show appreciation for their business and grow it even further. Last week, USSEC CEO Jim Sutter joined other USSEC representatives for events in Nigeria, Taiwan, Japan and Thailand meant to bring together U.S. exporters and grower leaders with existing and potential customers.
Sutter provided an update on what USSEC is doing to increase demand for U.S. soy abroad during a press briefing on Friday. He was joined by USSEC staff members Paul Burke and Timothy Loh, and Iowa soybean farmer Morey Hill.
Listen here:
USSEC media call