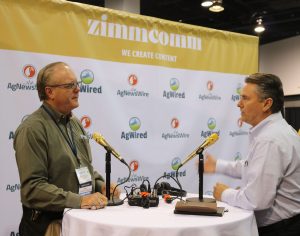 Richard Bettison began his new role as CEO of Beck Ag on April 8, just in time to attend the Agri-Marketing Conference in Kansas City last week and become a new member of the ZimmComm Golden Mic Club. Bettison said he has known Beck Ag as a customer and now looks forward to working with an incredibly talented group of people serving the agriculture industry.
"I think there is a lot of change in the marketplace and that's what's exciting about joining Beck Ag," said Bettison, who previously worked for Syngenta and AGDATA, LP. "They really are transforming their business to provide much more data analytics and services to the market, understanding trends, being thought leaders in the industry to help organizations think about how they should allocate resources more effectively."
Bettison said he looks forward to building relationships with key players in the marketplace that will help Beck Ag to serve clients in a more meaningful way.
Listen to Chuck's Golden Mic interview with Richard here: NAMA19 Interview with Richard Bettison, new Beck Ag CEO