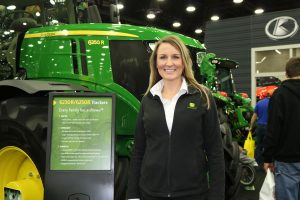 John Deere introduced two more models to its 6R Tractor lineup at the National Farm Machinery Show this year, the 6230R and 6250R.
Both models are loaded with new levels of power and premium features to make them an ideal choice for hauling hay, forage and slurry, yet versatile enough for loader and PTO work. The 6230R and 6250R Tractors expand the upper limits of horsepower available for the 6R lineup, delivering 230 and 250 rated engine horsepower respectively. When power bulge and John Deere Intelligent Power Management (IPM) are factored in, the larger 6250R is capable of up to 300 horsepower.
"Livestock, dairy and hay producers will appreciate the power of these tractors, especially when they need to haul heavy loads or want to reach optimal transport speed more quickly. The performance and versatility of these tractors makes them a solid choice for loader and PTO work such as baling," said Anne Anderson, product marketing manager with John Deere.
Laura Handke interviewed Anderson about the new models at NFMS – Interview with Anne Anderson, Deere Product Manager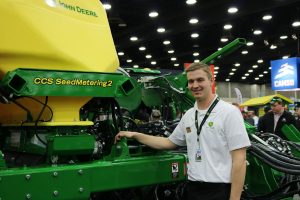 Also at NFMS, Deere introduced the redesigned N500C Series Air Drills for 2019. These new air drills integrate the latest in seeding technology, including new ProSeries™ Openers, to provide small-grains producers the most productive, accurate and smart seeding tools in the industry.
In this interview, Deere Product Manager Tyler Rumboldt explains how the N500C Air Drill was designed to give operators much easier meter access, and the latest in integrated technology for improved seed placement accuracy for cereals, canola, soybeans and other crops.
Interview with Tyler Rumboldt, Deere Product Manager