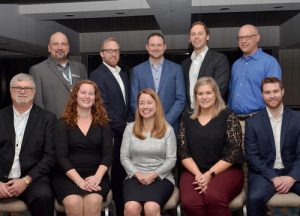 The Crop Insurance and Reinsurance Bureau (CIRB) Emerging Leaders Program just keeps growing.
The 2018-19 CIRB ELP class includes:
Back row –
RJ Brinkmeyer – Farmers Mutual Hail
Ryan Kramer- Farmers Mutual Hail
Bret Keeler- ARMtech Insurance Services
John Haldy – Guy Carpenter
Kevin Boeckenstedt – Crop Risk Services
Front row –
Bryce Benson – American Farm Bureau Insurance Service
Tracy Klever- Farmers Mutual Hail
Amy Zeik- RCIS
Chelsea Abrahamson – Farm Bureau Financial Services
Cole Patrick- COUNTRY Financial
This is only the fourth ELP class for CIRB and the program is already paying dividends to the organization and the industry, as well as the more than 30 participants. Previous ELP participants have become active recruiters for the program which is designed to help professionals in the crop insurance industry increase their knowledge and hands-on experience with key issues.
I had a chance to interview four of this year's class to talk about their experience with the program so far.
CIRB2019 Interview with Cole Patrick, COUNTRY Financial

CIRB2019 Interview with Ryan Kramer, Farmers Mutual Hail

CIRB2019 Interview with Amy Zeik, Rural Community Insurance Services

CIRB2019 Interview with Bryce Benson, American Farm Bureau Insurance Services

2019 Crop Insurance and Reinsurance Annual Meeting photo album