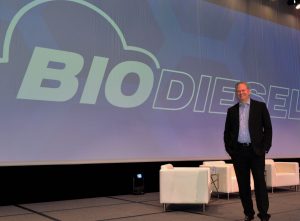 Hundreds of biodiesel leaders from across the country gathered for the 2019 National Biodiesel Conference in San Diego to ENGAGE in thought provoking discussions to help advance America's advanced biofuel.
Among the highlights of this year's conference were the annual Eye on Biodiesel industry awards for Initiative, Impact and Innovation; the biodiesel vehicle showcase, and discussions on the future of the Renewable Fuel Standard.
NBB CEO Donnell Rehagen wraps up the conference in this interview:
NBB19 Wrap up interview with CEO Donnell Rehagen
The conference may be over but coverage on the
Biodiesel Conference Blog continues, so check there for more audio and video content being posted.