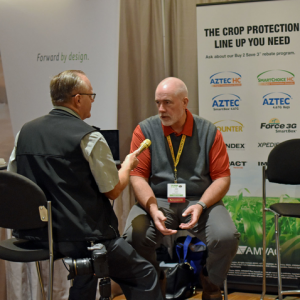 AMVAC has been growing its portfolio of products with a focus on giving growers more flexibility while still providing excellent crop safety. Products like Impact and ImpactZ herbicides have a wide window of application, from weed emergence up to 45 days before harvest.
"The last two seasons have been such that you've not had wide open spraying or planting windows," said Jim Lappin, AMVAC crop marketing manager for corn and soy. "We believe Impact has set the standard for crop selectivity and gives you that confidence that regardless of the program I use, if I use a product like Impact I'm going to have that crop safety but yet I'm still going to get the performance I need on the key grasses and broadleaves."
Lappin said AMVAC is again offering the Buy 2, Save 3 program in 2019, where growers who use a granular or liquid soil-applied insecticide along with Impact or ImpactZ hericide can save three dollars per acre on qualified products. Lappin was at the 2018 National Association of Farm Broadcasting Convention in Kansas City.
Listen to Chuck's interview with Jim here: Interview with Jim Lappin, AMVAC
2018 National Association of Farm Broadcasting Convention Photo Album