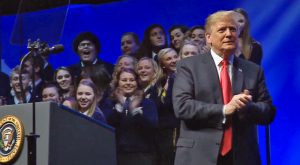 The synagogue shooting in Pittsburgh on Saturday delayed President Donald Trump's arrival at the National FFA Convention in Indianapolis and led to a somewhat disjointed address to nearly 70,000 blue jacketed members with their family, advisers and industry supporters.
Trump first made remarks about the tragedy and called on a local rabbi and pastor to pray for the victims of the shooting. He then spoke to the FFA audience for another hour, frequently talking about trade agreements and how much he loves farmers and consistently referring to the organization as the "Future Farmers" – a name that was changed in 1988 to recognize the many career paths that relate to agriculture. The address received lots of attention from the mainstream media that also consistently called FFA the Future Farmers of America in coverage, like this USA Today story.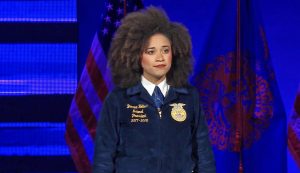 WARNING – Editorial comments ahead.
Not to criticize the president, since he gets enough of that, but the press should be able to get a simple fact like the name of an organization right. I was disappointed in both the president's speech and the resulting national coverage because it was a missed opportunity to showcase the diversity of agriculture. National FFA members are shining examples of what is great about America and what is great about American agriculture, so that's a shame.
If President Trump and the media had stuck around, they would have heard a real "Make America Great" speech from Breanna Holbert of California, the outgoing National FFA President. Her retiring address was not just inspiring, it was awe inspiring. That young lady is going places.
Listen to some of both their speeches below.
President Trump at 91st National FFA Convention
National FFA president Breanna Holbert retiring speech