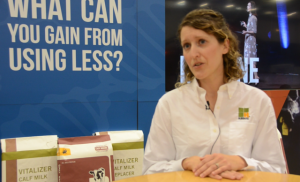 Hubbard shared information about its Total Replacement Trace Minerals (TRTM) program with dairy producers at the 2018 World Dairy Expo.
The program will enable animals to increase their genetic potential, resulting in improvements in production, health, reproduction and growth, according to dairy nutritionist Angie Manthey.
"It takes into consideration not only the form, but also the amount of the trace minerals that we're feeding," said Manthey. "We're feeding trace minerals that are organic and a little bit more available to the animal. So we're decreasing any interactions that might happen while they're passing through the digestive tract, and in turn, we're able to feed less of those trace minerals."
Manthey said the TRTM program can have an impact along all stages of life in dairy cattle.
Listen to Jamie's interview with Angie here: Interview with Angie Manthey, Hubbard Feeds
2018 World Dairy Expo Photo Album