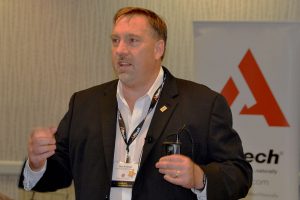 The legacy of Dr. Pearse Lyons, founder of Alltech who passed away earlier this year, was remembered at World Dairy Expo last week in Madison.
"He had a passion for agriculture, he had a passion for the dairy industry," said Alltech US Dairy Sales Manager Dan Weiland. "It's up to us, the people of Alltech, to maintain that type of passion but continue to drive it with solutions, new technologies, and new programs as we move forward."
During an Alltech reception at World Dairy Expo, Weiland talked about the impact Dr. Lyons has had on the dairy industry and toasted his memory, along with Pearse's son Dr. Mark Lyons, who is now president of Alltech.
In this interview, Weiland also commented on trends Alltech is seeing in the dairy industry and what Alltech provides to help producers focus on efficiency during a down market. Interview with Dan Weiland, Alltech
A toast to the legacy of @Alltech's Dr. Lyons at #WDE18. pic.twitter.com/EPIRvqNxG0

— AgWired.com (@AgWired) October 3, 2018