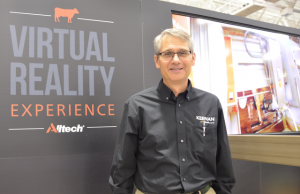 Dairy producers visiting the 2018 World Dairy Expo had the opportunity to learn more about KEENAN mixers and the InTouch system from Dan Gard, KEENAN sales manager for the United States.
"KEENAN has no dead spots in the mixer, so it delivers a consistent, uniform mix for the ration regardless of the ingredients, and that's really what sets it apart," said Gard. "InTouch is the communications platform that's in the controller on the mixer, and it's a real-time performance monitoring system where it monitors the performance of the mixer on a daily basis, the mixer operator, and also the performance of the livestock that the producer is trying to raise and market from the farm."
Gard said InTouch works through existing cell phone service and automatically uploads information on a daily basis.
That information is collected and summarized into reports for the producer and trusted advisors to review and make management decisions based on the performance of the operator or the animals on the farm. Consultants can also send rations straight to the mixer.
More information is available from local Alltech representatives and Hubbard Feeds dealers throughout the United States, as well as on the KEENAN website.
Listen to Jamie's interview with Dan here: Interview with Dan Gard, KEENAN