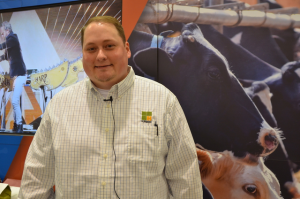 Each dairy farmer has different nutrition goals, based in part on what forages are available on farm. Hubbard dairy nutritionists like John Pretz help farmers with regular nutrient analysis so they can optimize the forages that are available and identify supplements that might further improve herd production, reproduction, and overall animal health.
"I think we've absolutely evolved over the last few years from looking at your base nutrients – just a crude protein and a starch spec – all the way down to the specific amino acid," said Pretz. "In a lot of ways, I'd say these cows' diets are more precise than what we're eating as a human being, even if we're tracking everything that's going into our body."
Pretz said small changes can also make a big difference, from keeping cows cleaner to trimming hooves more often. Other examples include increasing cow comfort during day to day activities from vaccinations to milking procedures. Pretz visited with producers at the 2018 World Dairy Expo in Madison, Wisconsin.
Audio – Interview with John Pretz, Hubbard
2018 World Dairy Expo Photo Album