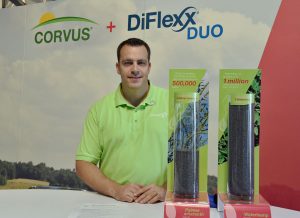 When it comes to Palmer amaranth and waterhemp, Bayer experts say anything less than 100 percent control risks corn yields in the future because just one of either of those weeds can produce 500,000 to one million seeds for next season.
"Growers should take a holistic approach to managing Palmer amaranth and waterhemp," said Frank Rittemann, selective corn herbicides product manager at Bayer. "This includes crop rotation, tillage and cover crops, as well as monitoring ditches and borders. Growers should use both pre- and post-emergent herbicides with multiple sites of action."
Rittemann recommends using Corvus® pre-emergence herbicide and DiFlexx® DUO postemergence herbicide.
"Corvus followed by DiFlexx DUO provides a zero tolerance approach to weed management," said Rittemann. "We recommend tank mixing Corvus with atrazine and DiFlexx DUO with glyphosate. Used together, this recommended zero-tolerance approach combines multiple effective sites of action and six distinct and powerful active ingredients for season-long control and proactive resistance management."
Learn more in this interview from Farm Progress Show. FPS18 Interview with Frank Ritteman, Bayer