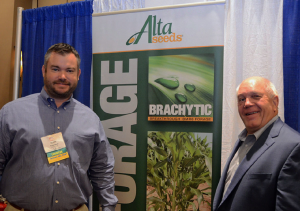 More farmers are looking to sorghum as a solution for their forage crop needs because of volatile weather patterns and heat and moisture stress that has become more prevalent.
New varieties provide many agronomic and nutritional benefits, according to Rusty Bevell, central sales manager for Alta Seeds.
"It will actually grow at a lot higher heat, and we've got a variety of forages," said Bevell. "Depending on what you're doing, your management practices, whether you're wanting to graze, cut it for silage, or bale it up."
Nutritionally, studies have shown equal milk production per pounds of milk, as well as slightly higher components with sorghum, said Leo Brown, business development manager for forages. Brown said sorghum has also been known to outperform corn silage in a year where farmers face less than desirable growing conditions.
"We're doing extensive collaborative studies with universities across the country to look at best management practices – I call it best management practices revisited – with respect to populations and how to further process the crop," said Brown.
Brown said many growers are looking for alternatives to the traditional alfalfa and corn silage sources for forage crops. While sorghum has typically been grown in southern regions of the United States, farmers are growing sorghum all over the country from California to Texas to Wisconsin.
Listen to Cindy's interview from Ag Media Summit here: Interview with Leo Brown and Rusty Bevel, Alta Seeds