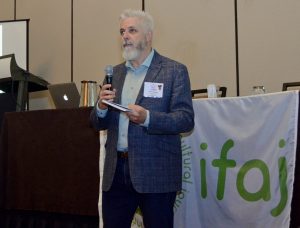 Lots of planning time was spent at the 2018 Ag Media Summit last week to prepare for next year when AMS will host the 2019 International Federation of Agricultural Journalists (IFAJ) Congress July 24-31 in Bloomington, Minnesota.
An informational meeting included many who hope to attend and help host over 100 agricultural journalists from other countries. "To me the exciting thing about having the Congress in the United States is that more American ag editors than ever can take part," said IFAJ president Owen Roberts, University of Guelph.
The 2019 Congress is less than one year away now, so volunteers and sponsors are needed now. Kurt Lawton with Corn and Soybean Digest is the chair for the event.
Learn more about IFAJ and the 2019 Congress in this interview:
Interview with Owen Roberts, IFAJ president