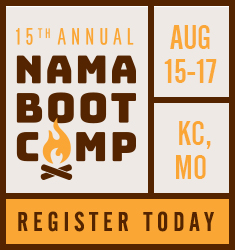 Here is who should attend.

The National Agri-Marketing Association's Boot Camp event is the perfect opportunity for individuals new to the industry to learn more about marketing and agriculture basics. The 2018 Boot Camp will take place in Kansas City, MO, August 15-17.
This event has educational sessions on what influences producers, crisis management, and dealing with negative messages. Plus, there are two panel presentations that will share valuable insights from local producers and provide practical advice from several experienced and successful agribusiness professionals.
In addition, Boot Camp provides countless opportunities to network with agri-marketing professionals from across the country. Each attendee will also receive a notebook packed with agricultural terminology, facts, case studies and speaker presentations.
To kick off the NAMA Boot Camp, you can attend the MoKan NAMA Ag Tour. The Ag Tour is a one-day, on-farm experience where attendees will tour and learn about different nuances of agricultural operations in the surrounding area. This tour takes place on August 15.
Find the full schedule of events on the website. Register now for this incredible opportunity to advance your career in agri-marketing. Rates go up on July 24 so reserve your spot today.