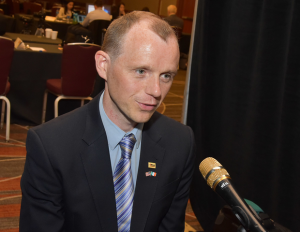 Scientists in the field of aquaculture are working to produce a premium product sustainably, and nutrition is a key part of that goal.
At ONE 18: The Alltech Ideas Conference, Dr. Philip Lyons shared some challenges and successes of the aquaculture industry with participants.
"I think the biggest challenge is that at the moment a vast majority of feeds for carnivorous fish are made up of raw materials that are derived from the wild environment," said Lyons, research scientist at Coppens International, an Alltech company. "From wild fish stocks, fish meal still makes up a large proportion of aqua feeds. And we really need to think of innovative ways to replace these because it's not environmentally sustainable to take fish from the sea and put it into formulated diets for farmed fish and it doesn't make sense to do that."
Lyons said Alltech has already had some success with removing the fish oil component and replacing that with micro algae to get the same level of performance. But the protein side is still a challenge that the whole industry has to overcome. The company is actively looking at alternatives and conducting trials to see the digestibility of those alternatives in fish. Replacements with potential include insect meal and high protein bacterial meal.
Lyons said the company is also fine tuning mineral nutrition, as mineral requirements published for fish are old and outdated. Phosphorous retention is another focus to be sure there is no excretion of excess phosphorous into the environment. He is also excited about a new project researching gut health in fish.
Listen to Jamie's interview here: Interview with Dr. Philip Lyons, Coppens International