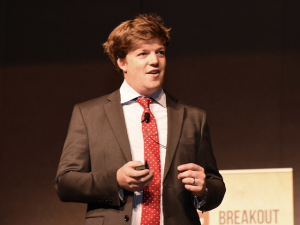 China reopened its borders to United States beef in 2017, but that historic decision sparked both challenges and opportunities for American beef producers, according to Ian Lahiffe, Lead of Operations, Allflex Livestock Intelligence.
Lahiffe said beef consumption has almost doubled in China over the past 10-15 years, but Chinese consumers are accustomed to grass-fed beef primarily from Brazil or Australia that costs 30 percent less than beef from the United States. He said U.S. beef producers will have to reintroduce Chinese consumers to grain-fed beef and carcass quality.
The good news is that the younger generation in China is consuming much more beef than their older counterparts, especially when they eat out. Lahiffe said research shows a clear generational divide between those consumption habits. Additionally, the a younger Chinese generation has more available income and many are chasing the "Chinese Dream" and are willing to pay for what they perceive to be the best product, at whatever cost.
However, Lahiffe warned that current trade wars are having a significant impact.
"This tariff affects confidence," Lahiffe said. "The fear is when the relationship between the two countries isn't so good, the Chinese mightn't ban U.S. beef, but it might be sitting in the port for awhile."
Lahiffe sees Chinese consumption and demand as an incredible opportunity. He believes those who are willing to invest in the best supply chain, and who can adapt to and understand the needs of Chinese consumers will reap the benefits in the long run.
Listen to Jamie's interview with Ian here: Interview with Ian Lahiffe, Allflex Livestock Intelligence