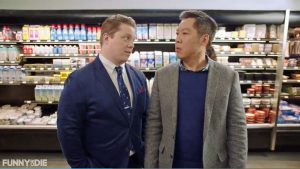 Peel Back the Label has partnered with Emmy-winning video company Funny Or Die to produce a new video highlighting the absurdity of deceptive food labels with a tongue-in-cheek take on how far food companies are willing to go to confuse consumers into buying their products.
The video features two food executives – one from a milk company and the other from a marketing agency – scheming over how to separate their product from the rest of the pack, with consumers paying the price as they encounter increasingly ridiculous deceptive and misleading food labels with terms like "non-GMO" and "natural."
"Anyone who has ever been to the grocery store knows the feeling of being manipulated when faced with dozens of labels all saying different things about the same types of products. With this video, we shine a spotlight – in a decidedly tongue-in-cheek way – on just how difficult some food companies are making grocery shopping, something which should be a simple and straightforward endeavor for consumers," said Jim Mulhern, President of the National Milk Producers Federation.
Watch it and laugh – or cry because it's so true!