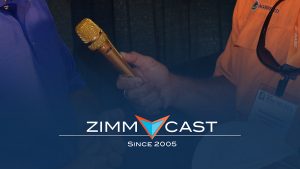 This week's program includes two Golden ZimmComm Microphone interviews from #NAMA18 (Agri-Marketing Conference). Featured are Matt Wetterson, Kayla Portwood and Melissa Williams with GROWMARK. Matt talks about his responsibilities with GROWMARK and challenges and opportunities. Kayla and Melissa talk about Ag Careers and how important reaching out to young people who want to work in the industry is to GROWMARK.
You'll also hear a conversation I had with Bill Moffit, Ayrstone Productivity. The company has announced a new product for rural and farm wifi connectivity that has been designed to meet growing needs for being able to stream higher bandwidth digital content over a wide area – the Ayrmesh Hub2x2. We use an Ayrstone Ayrmesh wifi network system here at ZimmComm World Headquarters and I can testify to how solid and simple this product is.
You might wonder what connects these interviews. In my opinion, rural broadband is a big issue to developing rural America. So when it comes to ag careers for those from the farm especially, you not only have to have broadband available but you also have to have a good system or network to distribute it.
I hope you enjoy it and thank you for listening.
Listen to the ZimmCast here: ZimmCast 581 - Ag Careers & Farm Wifi
I hope you enjoy it and thank you for listening.
Subscribe to the ZimmCast podcast here. Use this url in iTunes or your favorite news reader program/app.