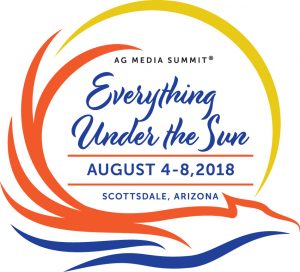 Just in case you didn't get the memo, this year's Agricultural Media Summit will be August 4-8 in Scottsdale, AZ.
In case you don't know what this is then read on.

This is the largest gathering of agriculture's top writers, editors, photographers, publishers and communication specialists in the U.S. This year the Association for Communication Excellence (ACE) in Agriculture, Natural Resources and Life and Human Sciences will join the American Agricultural Editors' Association, Livestock Publications Council and the Connectiv Agri-Media Committee. With the addition of ACE, more than 850 media and communications professionals are expected to attend.
This industry-wide gathering of agricultural communicators offers one of the best opportunities for professional improvement and industry networking. The InfoExpo (trade show) annually exceeds 75 booths and provides the best place to promote your company or organization's products and services. Sign up for your booth here.

HOTEL HEADQUARTERS:
The Westin Kierland Resort & Spa
6902 E. Greenway Parkway
Scottsdale, AZ 885254
480-624-1000
kierlandresort.com
To book your room, click here. Room rate: $149