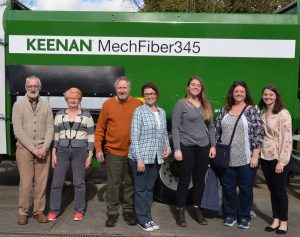 For three U.S. dairy producers, the luck of the Irish was on their side when their names were selected in a live, random drawing at the 2017 World Dairy Expo for the Alltech KEENAN Great Green Getaway.
Hank and Joanne Greisen of Wisconsin; Mary and Mike Van Rossum of Wisconsin and Ashley Ervin, her mother and twin sister, have all been enjoying the journey of a lifetime this week in the Emerald Isle, including a tour of the KEENAN production facility in Borris, County Carlow, Ireland, a guided VIP experience at the new Pearse Lyons Distillery, and visits to a number of high-performance Irish dairy farms. The grande finale will be St. Patrick's Day celebrations in Dublin City Centre.
Jamie Johansen has been with the group all week and gotten to know them and their unique stories. Listen to her interviews with the winners below.
Great Green Getaway winner Ashley Ervin, Tennessee
Great Green Getaway winners Hans & Joanne Griesen, Wisconsin
Great Green Getaway winners Micheal & Mary Van Rossum, Wisconsin