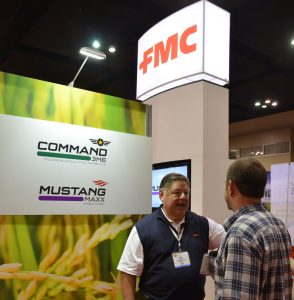 FMC wants rice growers to know that Command 3ME is a tried and true product that will be available even with increasing rice acres this year. FMC Technical Service Representative Don Johnson said Command 3ME continues to outperform its generic counterparts.
"We ran tests of the generic products out there in the marketplace, and those microencapsulated formulations reduced the amount of volatility from the old 4EC about 10 percent across the board," said Johnson, who serves a territory including Mississippi, Arkansas and Louisiana. "Command 3ME still reduces the volatility from the baseline Command 4EC about 80 percent out there in the marketplace."
Johnson explained that Command 3ME was the answer to reducing volatility that came along with the original Command 4EC and it has been very successful in doing that.
Listen to Jamie's interview with Don here: Interview with Don Johnson, FMC Corporation
View and download photos from the event here: 2018 Farm & Gin Show Photo Album