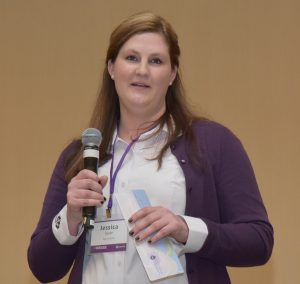 In the year since Aptimmune launched the Barricade vaccine to fight porcine reproductive & respiratory syndrome (PRRS), the company has been gathering field data from 30 different veterinarians in 12 different states.
"We've been able to see a 50 percent reduction in mortality across the board, so it's been very rewarding," said Dr. Jessica Seate, professional service veterinarian for Aptimmune. "In addition, we've also seen we can improve the number of pigs that are culled or rejected. We've also got improvements in antibiotic treatment programs."
Seate said the data also looked at average daily gain and there are improvements there, as well. The company shared those results at the 2018 Aptimmune Scientific Symposium in San Diego.
2018 Aptimmune Scientific Symposium Photo Album
Listen to Chuck's interview with Dr. Jessica Seate here: Interview with Dr. Jessica Seate, Aptimmune