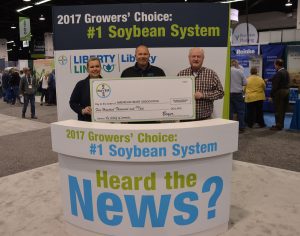 Bayer contributed over $5,000 to the American Heart Association based on 2017 sales of LibertyLink soybeans. It was a record year for LibertyLink soybeans, planted on more than 17 million acres in 2017. Weed control is the top reason farmers are planting LibertyLink.
"We've seen tremendous success with Liberty in terms of growers controlling their key driver weeds," said David Tanner, Liberty product manager at Bayer. "This is continued on the success that growers have had with Liberty in the past. We saw excellent results last year with performance, rating grower surveys. We know that when Liberty is applied according to a full program approach, which is what we really recommend, we get over 98 percent control. Really exceptional control that we've seen across soybeans, corn, cotton, as well as canola."
Growers also chose the LibertyLink system because of overall yield and ease of use.
Bayer at 2018 Commodity Classic Photo Album
Listen to Jamie's interview with Jody Wynia and David Tanner here: Interview with Jody Wynia & David Tanner, Bayer
Photos, video, and audio interviews from Bayer at Commodity Classic