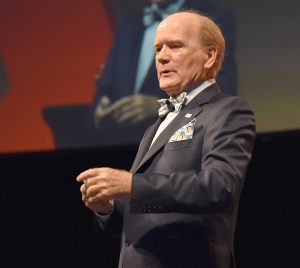 Right now I am saddened and in shock after learning of the passing of Dr. Pearse Lyons, Alltech. There is so much I can say about this man and what he meant to me personally. I considered him a friend, teacher and supporter.
Some thoughts that come to mind include:
I've met many successful people but Pearse has to be one of the best entrepreneurial salesmen I ever met. Pearse always took time to visit with me even when I knew his schedule was tight and other people were waiting. He had a fantastic memory for details and would ask me about my family and business and offer suggestions if I asked him. He always seemed to be looking beyond the current moment but that moment was also very important to him. He was genuine and I believed what he said and meant and that he did too.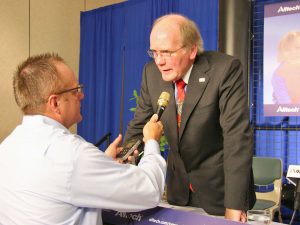 He was a perfectionist (which could annoy people in the hall outside of the general session at his symposium who were waiting to get in while he perfected the program). He enjoyed good whiskey, beer and bourbon so he bought a brewery and built a distillery. He was a leader with endless energy. He had a great sense of humor and could sing better than I ever could or will. He taught me that good marketing was done through education.
Several years ago I sat down with Pearse for my favorite interview with him during which we talk about his 30 years of building a company one of the finest company customer events I've ever attended. Perhaps you will enjoy hearing it today: ZimmCast with Dr. Pearse Lyons
You can learn more about the life of Dr. Pearse Lyons, including arrangements, in this page put together by his company, Alltech.
I have taken lots of photos of Dr. Lyons, along with Jamie and Cindy too. You can find many of them in our Alltech event albums online here.