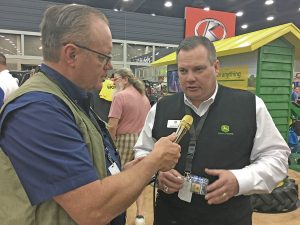 John Deere took the opportunity to show off some new low-profile specialty tractors at the 2018 National Farm Machinery Show. One model introduced at the show was the 5090EL, which is built on the John Deere 5E 4-cylinder tractor platform. That tractor is made for poultry producers, but can also be a great machine for tree fruit or tree nut growers.
The company also showcased its 5125ML with added horsepower. They've added options to the 5100ML and 5115ML tractors, and the 5ML tractors now come with JDLink as a field installed kit.
"JDLink gives you the ability to connect to your tractor remotely, either from an iPad, a smartphone, your computer," said Deere's John Doyle. "What it's going to give you the ability to do is monitor your tractor. It helps you monitor maintenance intervals, it gives you the hours, fuel usage, it also gives you the location of the tractor. It will tell you if the tractor is running. It's just a great tool for our customers who have multiple tractors."
John Deere dealers are currently taking orders for the 5090EL and 5125ML tractors. Doyle expects production of the 5090EL to begin in April and production of the 5125ML to begin around October. For detailed information visit JohnDeere.com/Specialty or see your local dealer.
Listen to Chuck's interview with John here: Interview with John Doyle, John Deere