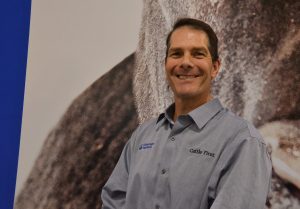 Bovine viral diarrhea (BVD) virus is a devastating disease in cattle. But many producers may not realize that Type 1b is the most common subtype of the disease. Dr. Steve Foulke with Boehringer Ingelheim said many vaccines do not even cover Type 1b.
"The vaccines that are out there on the market contain Type 1a and Type 2a in them, but they generally don't have a Type 1b actually in them," said Foulke. "So, the diseases are all the same, but do we cover for everything? So that's where it's really important to know whether the vaccines you're using to prevent BVD are going to protect against the most common BVD that's actually out there."
Foulke said BVD can cause more than just diarrhea in cattle. It's more commonly expressed as a respiratory virus or a reproductive issue, causing early abortion, fetal or congenital malformations, or other problems. The virus also suppresses the immune system, making cattle more susceptible to other diseases.
Listen to Jamie's interview with Dr. Foulke at the 2018 Cattle Industry Convention: Interview with Dr. Steve Foulke, Boehringer Ingelheim