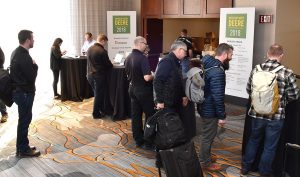 The Develop with Deere conference, Growing Solutions Together, is taking place much earlier this year in Kansas City, MO. The event is getting underway this afternoon with registration and a reception.
I sat down with Randy Kasparbauer, B2B Software Product Manager, John Deere, to get a preview of this year's event. It looks like a big crowd and John Deere has invited in dealers from across the country this year as well as several other countries. In addition to dealers there are representatives from many companies that are working on integrations with John Deere and especially into the John Deere Operations Center. I like to think of this as an AgNerd's Paradise.
I'd also like to congratulate Randy for serving as Vice Chair of the Operational Management Board for AgGateway which was just announced today.
You can listen to my interview with Randy here: Interview with Randy Kasparbauer, John Deere
You can find conference photos here: 2018 Develop with Deere Conference Photo Album